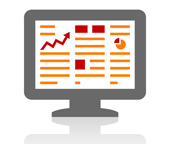 The Debt to Equity ratio is a key ratio that is most widely used in the analysis of financial statements for a small business like Home At Last Realty It measures the amount of protection the creditors of the small business have when compared to the amount of equity invested by the owners of the small business. It also shows how much each party has vested in the small business. This is a very significant ratio looked at by potential investors like venture capital firms who want to see not only if there is a return on their capital but if there will ever will be a return of their capital!
As we can see in our analysis the projected debt to equity ratio for Home At Last Realty will be 0.19, 0.07 and 0.0 in 2012, 2013 and 2014 respectively. The first year in business, we anticipate the highest debt equity ratio given the fact that we will have just started operations and taken on the note that we need to get the ball rolling.
As we start getting positive cash flow and the net income from the first year flows into the equity calculations for the second year, we anticipate that our debt to equity ratio will get better in 2013 and will improve even further in 2014. At the end of 2014 the term loan will be all paid off.
Clearly, if we have to take on more debt to sustain our business, or if the owners / investors have to pour in more money to add to their existing equity, these ratios will be negatively impacted.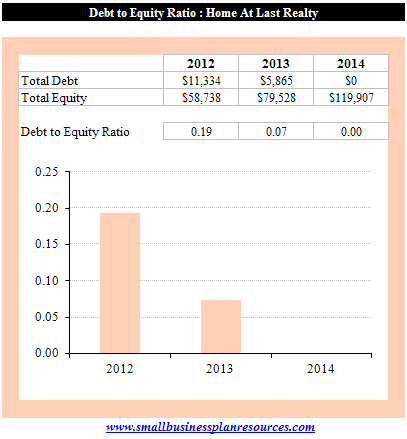 Quick Links:
Go to the Corresponding Template section for this industry.
Go to the Corresponding Questionnaire section for this industry.