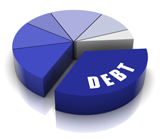 The Debt to Assets ratio is a key ratio that is looked at by lenders and potential partners alike and hence it is very important to a small business owners like Jose and Diana. Just like the Debt to Equity ratio, it measures how much leverage a small business has employed to deploy the assets it currently has. Unlike the Debt to Equity ratio which measures the amount of debt to the shareholders equity, the Debt to Assets ratio looks at the leverage that is employed on the assets of the small business.
As we can see from our analysis, the debt to asset ratio for Home At Last Realty is projected to be 0.16, 0.07 and 0.00 for 2012, 2013 and 2014respectively. The total debt at the end of each year is expected to be $11,334, $5,865 and $0 respectively for the years ahead and the total assets are projected to beand $70,723, $85,693 and $120,307 respectively.
We anticipate that with the largest debt load when we get going, the debt to asset ratio will be the highest upfront and then will start improvingas we begin paying the debt down and also as the amount of our cash reserves which are part of the total assets, start getting healthier duringour second and third years of operations. At the end of the third year we will have paid down the term loan completely.
In the event we have to take on more debt, or if we are not able to generate the kind of cash we are projecting, this key ratio will be negativelyimpacted.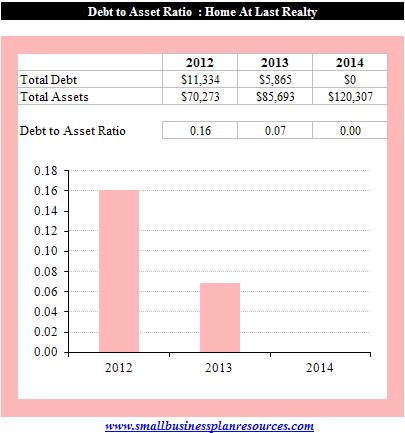 Quick Links:
Go to the Corresponding Template section for this industry.
Go to the Corresponding Questionnaire section for this industry.