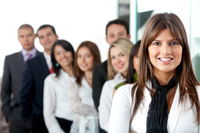 The Industry establishments by number of employees analysis covered in this section gives a very good idea of what the competitive landscape for Home At Last Realty looks like in Alameda County, California. The pie chart in shows that in the year 2010, of the total 398 real estate offices of Alameda County, 340 establishments representing 85% of all establishments had between 1 to 4 employees. There were 37 real estate offices in the county that had between 5 and 9 employees and 17 establishments that had between 10 and 19 employees. There are only 4 real estate offices of the two remaining categories of this analysis which cover establishments of more than 20 employees.
Thus this now paints a very clear picture that shows that almost 95% of all real estate offices in Alameda County, will have the same number of employees as projected by Home At Last Realty. Thus the bulk of the competition is made up of smaller operations that often may not have the dept of talent and productivity that both Jose and Diana bring to the table with their extensive experience in the real estate business. While there are a total of 37 real estate offices that have more than 5 employees in the county, larger operations like Home At Last Realty have some tactical advantages compared to the smaller ones - the greatest advantage of course is the larger amount of realtors available to serve the clientele. The real estate business is very time consuming and there is a maximum amount of time that a realtor can expend in the showing of homes besides all their other regular duties. Thus the more realtors there are in any office, the greater are the chances that no business will be lost because of lack of service. Another major advantage of slightly larger real estate offices is that they are able to have both English speaking and bilingual staff available for their clientele. Thus given the large Asian population in Alameda County, Home At Last will be able to hire at least one realtor who can be assigned to assisting those clients that are more comfortable in speaking say Mandarin. Clearly this separates them from their smaller competition who will probably lose this business.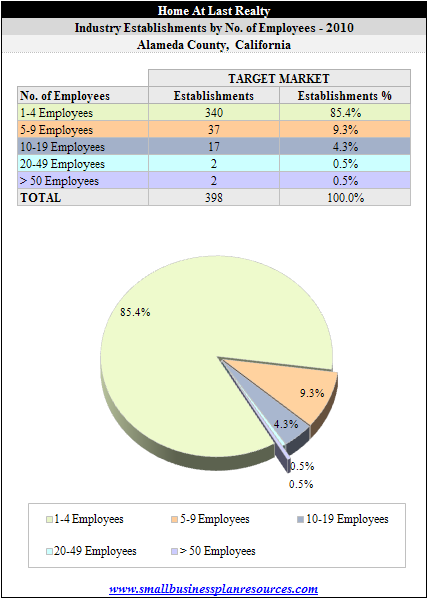 Quick Links:
Go to the Corresponding Template section for this industry.
Go to the Corresponding Questionnaire section for this industry.