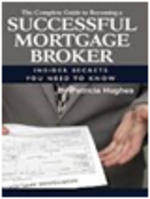 The Complete Guide to Becoming a Successful Mortgage Broker: Insider Secrets You Need to Know - Patricia Hughes


Publication Date: July 2008. Book Description: A reliable mortgage broker is in constant demand and never short on business in any economic condition. According to the U.S. Department of Labor, the average income of mortgage broker s is $43,210. The mortgage brokering business is one of the fastest growing occupations in America today, yet the financial success rate for these new brokers is dismal. It is estimated that less than 30 percent of new mortgage brokers ever become financially successful. Virtually all mortgage brokers are paid strictly on commission, so there is little motivation for the company to help you succeed. You need the proper training to be prepared. This new book will provide you with a road map to financial success. You will learn how NOT to make the big mistakes most new brokers make, how to put a loan package together, how to find borrowers, how and what to charge, how to guarantee your fee, how to make buyers and sellers happy, and how to quickly and easily locate the best deals for your customers. Additionally, this book provides you with information on licensing and exam fees, the expenses of doing business, your vehicle and insurance coverage, sales techniques, simple methods to get hundreds of referrals, software programs that make running your business effortless, the private mortgage segment, the commercial market, secrets to using the Internet, realtors, online tools and ideas, mortgage technology tips, Internet leads, building partnerships, and much more. We also spent thousands of hours interviewing, e-mailing, and communicating with hundreds of today s most successful mortgage brokers. This book is a compilation of their secrets and proven, successful ideas. If you are interested in learning hundreds of hints, tricks, and secrets on how to earn a high, consistent income as a broker, this book is for you.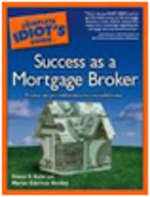 The Complete Idiot's Guide to Success as a Mortgage Broker - Daniel S. Kahn.


Publication Date: June 2006. Book Description: Here is a step-by-step handbook to joining this elite group. Written by an accomplished mortgage broker with more than 15 years in the business and 2,000 deals to his credit, this book covers everything from whether or not real estate financing is the right career move to how to master the skills necessary to be successful. • Overview of a day in the life of a mortgage broker—including the pros and cons of the career • A self-test to help readers determine if the brokerage business is right for them • Licensing and educational requirements, advice on successful networking, and basic mortgage information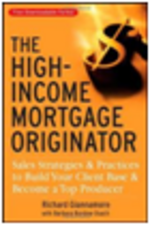 The High-Income Mortgage Originator: Sales Strategies & Practices to Build Your Client Base and Become a Top Producer. - Richard Giannamore & Barbara Osach.


Publication Date: November 2007. Book Desciption: Richard Giannamore is President and CEO of Mortgage Services, Inc., and has more than twenty-five years of experience in the business. He is also CEO of Financial Program Strategies, Inc., and creator of the $-Road to Riches-$® education seminars. Barbara Bordow Osach, MBA, is a consultant to Mortgage Services, Inc., and has designed training and best practices documents for numerous industries. The High-Income Mortgage Originator is your guide to a rewarding sales career in a growing field. What could be more satisfying than helping a young couple buy their first home, or helping a parent fund a child's college education, or helping an entrepreneur start a dream business—all while you make a great living? Mortgage originators not only experience the satisfaction of helping people borrow the money they need; they get to be their own bosses, make their own rules, and make plenty of money. Whether you're looking for your first job or transitioning from a corporate position, The High-Income Mortgage Originator gives you all the tools to grow your wealth and your career in real estate finance. This comprehensive guide not only provides a beginner's course on getting into the business, but also provides references, examples,and business practices that lead to high incomes. It teaches proven principles and practices in customer service, marketing, and lead generation that will build your reputation—and your business.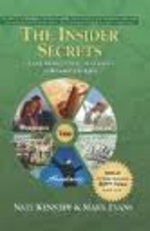 The Insider Secrets Of The World's Most Successful Mortgage Brokers - Nate Kennedy & Mark Evans


Learn how to make more money, work less, and have borrowers working on your terms. This book has a variety of different strategies to help you, whether you are new to the Mortgage Business or you are an experienced Mortgage Broker. This book touches on many secrets that will have you referring back to it again and again.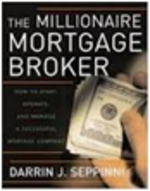 The Millionaire Mortgage Broker - Darrin J. Seppinni.


Publication Date: 2007. Book Description: As a mortgage professional with over 25 years experience, the author spent years training hundreds of loan originators and mortgage brokers. During that time he became increasingly frustrated with the lack of educational requirements on mortgage professionals and began campaigning for increased educational prerequisites of loan originators and more regulation for proper upfront disclosure of rates and fees so that borrowers would not be faced with any unexpected changes at closing. Recognizing the lack of training material he began my five year project that lead to his first book; 'The Mortgage Originator Success Kit' published 2005 by McGraw Hill. Some excerpts have been used from his book by some state licensing systems and more recently by the Nationwide Mortgage Licensing System.