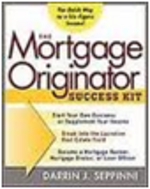 Mortgage Originator Success - By Darriin J. Seppinni.


Publication Date: December 2005. Book Description: As a mortgage professional with over 25 years experience, the author spent years training hundreds of loan originators and mortgage brokers. During that time he became increasingly frustrated with the lack of educational requirements on mortgage professionals and began campaigning for increased educational prerequisites of loan originators and more regulation for proper upfront disclosure of rates and fees so that borrowers would not be faced with any unexpected changes at closing. Recognizing the lack of training material he began my five year project that lead to his first book; 'The Mortgage Originator Success Kit' published 2005 by McGraw Hill. Some excerpts have been used from his book by some state licensing systems and more recently by the Nationwide Mortgage Licensing System.

Mortgage Refinance
1726 Stoner Avenue, Suite 101
Los Angeles, CA 90025
Phone: 310-393-6265
https://www.mortgagerefinance.com

MortgageRefinance.com is a premier online destination for consumers to compare mortgage quotes and save money on monthly mortgage payments while improving quality of lifestyle. MortgageRefinance.com is a a one-stop destination that offers free information from their Mortgage Broker and Lender member servicers. They have over 1000 providers in their network and continually growing. Their providers can help you accross multiple categories, including Mortgage Refinance, Home Equity Loans, New Home Purchase Loans, Credit Cards and Certificates of Deposit.

National Mortgage News
One State Street Plaza, 27th Floor
New York, NY 10004
Phone: 800-221-1809
http://www.originationnews.com

National Mortgage News is the ONLY weekly newspaper serving the entire mortgage industry including mortgage bankers, commercial bankers, savings institutions, brokerage firms, insurance companies, government enterprises and more. Each week, this award-winning publication brings you the news, analysis, trends and events that are shaping the mortgage industry.

National Mortgage Professional Magazine
1220 Wantagh Avenue
Wantagh, NY 11572
Phone: 516-409-5555
http://www.nationalmortgageprofessional.com

National Mortgage Professional Magazine is "The source for the latest on originations, settlement and servicing"—that connects the mortgage professional community under various media formats. Their exceptional team of industry-seasoned monthly contributors, all with meaningful expertise in their respectful disciplines, provide the most up-to-date news, insight and advice for today's mortgage professional, each month in our monthly print edition and 38 state-specific e-editions, and daily and hourly through their Web site, NationalMortgageProfessional.com.

Scotsman Guide
18912 North Creek Parkway 205
Bothell, WA 98011
Phone: 425-485-2282
http://www..scotsmanguide.com

Scotsman Guide, the leading resource for mortgage originators, is published nationally every month in separate residential and commercial editions. They offer one free, ongoing subscription to every mortgage loan origination office that brokers loans in the United States. Scotsman Guide Media is a privately held company that has served the mortgage lending industry since 1985. In December 1994, the company created Scotsman Guide to serve the mortgage industry in the Pacific Northwest. Gradually, it expanded distribution of the publication throughout the U.S. In April 2001, the company purchased Commercial Lender Magazine and merged it with Scotsman Guide. This purchase greatly expanded the commercial lending portion of Scotsman Guide. In December 2001, the company began publishing separate commercial and residential editions.