Broker Banker
5214 F Diamond Heights Blvd. #629
San Francisco, CA 94131
Phone: 415-406-2230
http://www.brokerbanker.com

Broker Banker Magazine and BrokerBanker.com were designed with the intention of bringing mortgage industry insight, sales education, motivation and product information to mortgage originators on behalf of the affiliates who serve them. Each month Broker Banker Magazine and BrokerBanker.com with their E-Newsletter showcase different top mortgage professionals and Industry Icons who share their secrets that keep them at the top of their game.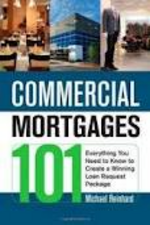 Commercial Mortgages 101: Everything You Need to Know to Create a Winning Loan Request Package - Michael Reinhard


Publication Date: May 2010. Book Description: With real estate prices at their lowest in years and the economy poised for a rebound, it's an opportune time to invest in commercial real estate. But credit and financing issues can still pose challenges that prospective borrowers must overcome in order to get the money and mortgage terms they need. "Commercial Mortgages 101" is a step-by-step guide for both real estate investors and mortgage brokers, offering insight, practical tools and a thorough overview of commercial mortgage underwriting and credit analysis. Readers will learn how to: think and speak like a commercial real estate lender; quickly size and under write a basic commercial real estate loan; prepare a personal cash flow statement and calculate true net worth and liquidity; read and interpret a lender's preliminary loan proposal; create a Schedule of Real Estate Owned; prepare a persuasive and professional loan request package; choose the right form of ownership (including LP, LLC, Co-tenancy and others); and more. Both thorough and timely, "Commercial Mortgages 101" reveals what readers need to ensure their loans are approved.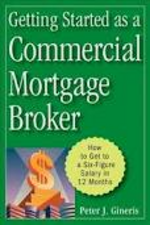 Getting Started as a Commercial Mortgage Broker: How to Get to a Six-Figure Salary in 12 Months - Peter J. Gineris


Publication Date: December 2008. Book Description: While residential real estate lending has gone soft, commercial lending is hot—with a wave of low interest rates and refinancing—and it shows no sign of slowing down. Right now, commercial mortgage brokering is one of the best ways to earn money without a ton of training. In this practical guide for first-timers, you'll learn the basics of brokering from application to closing, as well as inside information you won't find anywhere else. So get started!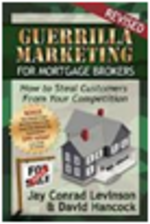 Guerrilla Marketing for Mortgage Brokers: How to Steal Customers from Your Competition - David L. Hancock.


Publication Date: September 2007. Book Description: In his groundbreaking book, "Guerrilla Marketing for Mortgage Brokers: How to Steal Customers From Your Competition," Certified Guerrilla Marketing Coach David Hancock teaches readers how to crush competitors and discover exactly why business slows down in tough economic times--and exactly what they can do about it.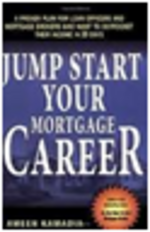 Jump Start Your Mortgage Career: A Proven Plan For Loan Officers And Mortgage Brokers Who Want To Skyrocket Their Income in 30 Days - Ameen Kamadia


Publication Date: October 2006. Book Description: This book answers the question, "How do I become a successful loan officer?" In simple English, the author explains some of the most effective strategies he teaches to other loan officers. "Jump Start" covers all the marketing essentials you need to start generating loans today. Implement the 30 Day Plan for a crash course in mortgage success. Discover how to make yourself stand out from your competition. 32 niche markets that desperately need your help. Why you don't have to lower your rates to be successful. The secret of avoiding peaks and valley in income. What Realtors really want from their lender and how to give it to them. And too much more to list here!