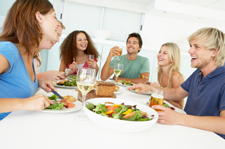 What is the benefit of having an Annual Spending by Housing Tenure analysis for A Touch of Tuscany?
The Annual Spending by Housing Tenure analysis gives the owner of a small business like Jack Gordon a clear idea of how much folks are spending annually on the products and services offered by the industry in which the business operates. While this analysis may not necessarily be very important in the business plans for all industries, we think it still may have a significant on how marketing strategy is formulated by business owners like Jack Gordon.
In order to conduct this analysis the annual spending by Housing Tenure breaks the population down into two distinct groups: Home Owners and Renters. The analysis covers a period of 10 years and shows how much home owners and renters have been spending annually on the products and services of a particular industry. While many industries may not show any difference in the spending patterns of Home Owners or Renters, there are many that will. As most folks know, historical rates of home ownership in the United States have averaged between 59% to 68% - what that means is that over the last 50 years after world war II, roughly around two third of the entire population has been home owners and the remainder one third have been renters.
In industries like retail sales, construction and personal services, there has always been a high degree of co-relation between the level of home ownership and the amount of goods and services purchased in any target market. Thus if you are a retailer like Home Depot, or even a small mom and pop shop selling hardware, you would look to target markets with more home owners and less renters since renters do not spend as much on home improvements needs as do home owners. In fact it is almost the responsibility of the home owner to maintain, repair and up keep the home as opposed to the renter.
What if the amount of spending by Renters is increasing and the spending by Home Owners is decreasing?
One of the key aspects of the Annual Spending by Housing Tenure analysis is that it covers a period of 10 years giving the reader of the plan like a potential lender or partner, a good view into how much spending by housing tenure has been changing over time. In the event we were to look at the fast food industry and find that the spending by renters has historically been a lot more than home owners and it is actually increasing even more in recent years, then it may lead us to the conclusion that the renters in the target market are a group of folks that are increasingly looking to eat out and spend money on fast food.
Further, if we were to use this analysis in conjunction with the Annual Spending by Age and Race analysis we would be able to pinpoint just which specific target segment of the target market has changes in recent spending patterns. It could well be that the target market 10 years ago used to have a large community of retired folks, but with the opening of a college and dorms, there are now many younger folks who have moved into the community resulting in increased demand for fast food.
The annual spending by housing tenure is not an attempt to answer any specific questions about the target market but is supposed to serve as a radar and bring to surface issues that require further diagnosis and research by a small business owner like Jack Gordon.
Which is more important - spending by Renters or spending by Home Owners?
The answer to this question depends on the industry you are in. Clearly having analytical information on both the categories along with having the data over a 10 year period gives a lot of information to the business owner to tackle. An interesting example of this would be a realtors office - if you were contemplating setting up a realty to offer realtor services that focused on either rentals or sell properties, this analysis would be very helpful to you. Thus if the Annual Spending by Housing Tenure analysis were to indicate that annually folks are spending a lot more in realty services for rentals then they are for home buying and selling, then you may be inclined to take a very careful look at the structure of the business. While there is not doubt that realtors do very well in commissions generated from the listing and sale of a property, the stark reality of the business is that these sales are very hard to close. On the other hand the constant and steady stream of income coming from specializing in renting apartments, homes and commercial units can be very lucrative and many realtors have been able to carve out an excellent niche for themselves by specializing in the rental market.
Quick Links:
Go to the Corresponding Template section for this industry.
Go to the Corresponding Business Plan section for this industry.