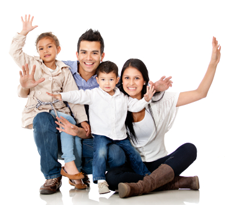 What is the purpose of this template on Population & Household Summary in a Business Plan for A Touch of Tuscany?
This template has been put together so as to let you give the readers of the plan a quick summary of what the demographic outlook of the target market for Westchester County, New York looks like. While there are other sections of the business plan that deal with more detail oriented information about the target market, we feel that it is important to present the reader with a quick snapshot of the key population and household metrics - our template assists you in addressing that.
What is the Data Source for this template on Population & Household Summary for A Touch of Tuscany?
The Census Bureau is the source for all the data that goes into this template. There are however two different surveys that we have used to garner the data and summarize it here in this table:
The American Community Survey (ACS) is a survey conducted by the U.S. Census Bureau in every county of the country including of course Westchester County, New York. The ACS provides critical economic, social, demographic and housing information to this countries communities every year. Only a small sample of folks are selected to participate in the American Community Survey conducted annually. The data for business plans on a Full Service Restaurant are provided in the form of tables that can give a quick overview of the target market from the ACS survey, you can also go to www.factfinder.census.gov
The USA Counties table features over 6500 data items for the United States and counties from a variety of data sources. Files include data published for the latest years estimates as well as many items of the previous census of population and housing. Information on counties like Westchester County, New York can be derived from the following general topics: age, agriculture, ancestry, banking, building permits, business patterns, crime, earnings, education, elections, employment, government, health, households, housing, income, labor force, manufacturers, population, poverty, retail trade, social programs, veterans, table to help them better understand their own target market and increase their chances of success for their small businesses like A Touch of Tuscany The USA Counties table can be directly accessed at www.censtats.census.gov/usa/usa.html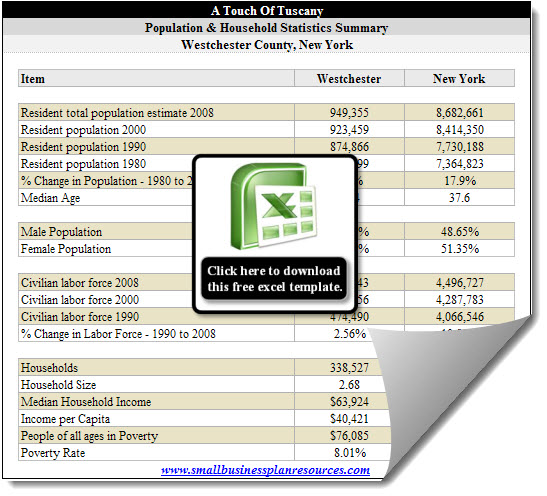 What do we do with the output from this template for Occupational & Housing Summary for A Touch of Tuscany?
Just as we advised our client Jack Gordon, we recommend that you gather the data from the sources mentioned earlier, fill out the data input area of the template highlighted in yellow and then click on the output button to be taken to the output page. There you will have the ability to copy and paste the output table directly into the word document which contains your business plan.
Quick Links:
Go to the Corresponding Questionnaire section for this industry.
Go to the Corresponding Business Plan section for this industry.