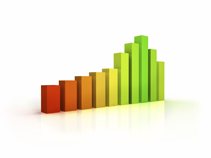 In this section of the business plan we discuss the sales projections for the first year that we have included in this business plan. In order to trulybe realistic about the future, we believe that we need to factor in different market conditions into our sales forecasting. As when looking forwardat A Taste for Tuscany, we have projected our sales based on either a slow market condition characterized by a sluggish economy, a good marketcondtion which we understand to be a economy operating under normal economic conditions of demand and supply and finally a great marketcharacterized by an booming economy like the dot com era where it was hard to find reservations in any restaurant on any day!
Another item that we have factored into our sales projections is sales seasonality - it is a farily well known fact in the restaurant business, that the busiest time of the year tends to be the last quarter leading all the way into the holidays. Once the holidays are gone, the months of january and februarytend to be slowest months of the year with folks recuperating from all the spending and eating around the holidays - in fact January is known to be the best month for gym's since a vast majority of folks start a new year trying to lose the weight they have put on during the holidays with a newyear's resolution to lose weight by starting working out in a gym.
Yet another item that we are using in our projections is the ever increasign cost of foods and beverages - thus every quarter we anticipate that ouraverage check will increase by between 1% to 2% to keep up with the roughly 4% to 5% of increase in the cost of raw materials.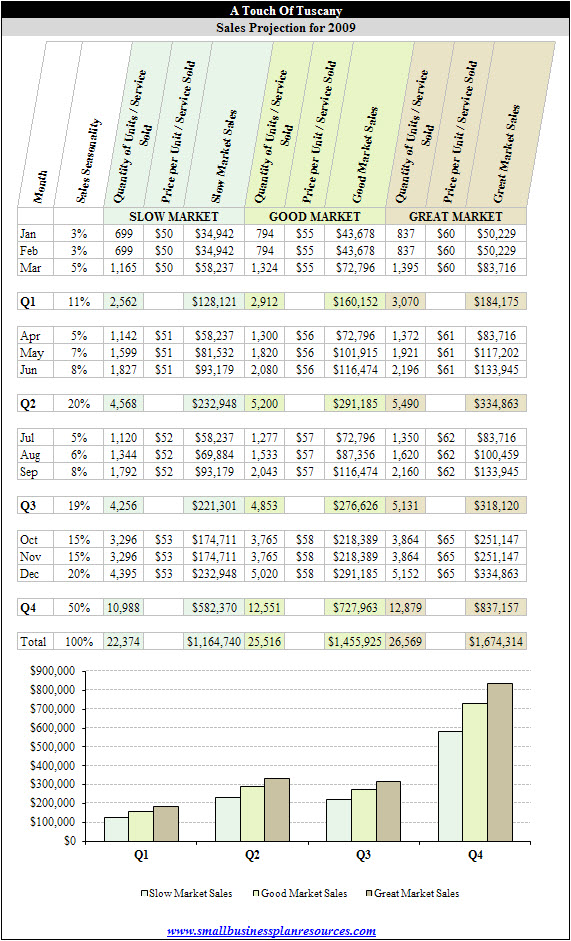 Thus we are projecting that for the first year in a good market condition we will probably be able to get to $1,455,925 in sales after serving 25,516meals each costing between $55 to $58 from the first to last quarter of the year. We are projecting that due to sales seasonality that we willbe taking in 11% of our total sales in quarter 1, another 20% in quarter 2, 19% in quarter 3 and finally 50% of our sales is projected to be earnedin the crucial 4th quarter of the year.
If we were to face a slow market we are predicting sales of $1,164,740 representing a 20% drop from a regular market conditins. Likewise if weare fortunate enough to be operating in a booming economy, we are projecting sales of $1,674,314 representing a 15% increase when comparedto normal market conditions.
Quick Links:
Go to the Corresponding Template section for this industry.
Go to the Corresponding Questionnaire section for this industry.