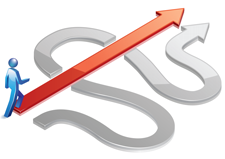 There are three elements for success in the full service restaurant business today:
Location and leases.
Excellent and diverse menu priced resaonably.
Ambience and customer service.
We believe that at A Taste of Tuscany we have all three elements down pat! Our choice of locations is the city of White Plains which is one of the fastest and most dynamic cities in the New York metropolitan area. With the developments of the city center, the Westchester mall, and more recently Trump towers, the city has transformed itself into the night spot of Westchester. A business friendly local government coupled with a highly educated, well heeled population is the perfect venue for fine Italian dining offered by A Taste of Tuscany.
Our diverse menu selection during both lunch and dinner hours has been developed after years of experience in the industry by our chefs and our founders Jack Gordon and Carmen Hernandez. Care has been taken to pick crowd pleasers and house specials that are not easy to find in Italian dining and the fare is priced very reasonably in line with local competitors. The quality of cuisine offered by A Taste of Tuscany is another thing altogether.
Carefully selected terra cotta tiles that go with the Italian look and feel of the old world tables and chairs give A Taste of Tuscany a unique look and feel. Our clients are transported back to Tuscany, Italy as they sip their wine and pick on their calamari.
Quick Links:
Go to the Corresponding Questionnaire section for this industry.