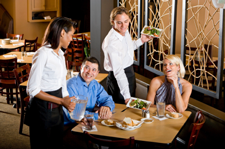 What is the Establishments and Employee analysis for House Cleaning Service and how does it help in a business plan for Spotless Homes Inc.?
The Establishments and Employees analysis is a detailed look at the House Cleaning Service as it pertains to the target market of Cobb County. This analysis tells you in great detail just how many establishments were there in the House Cleaning Service for Cobb County. It also gives us the total number of employees that were working in these establishments in the House Cleaning Service; and finally given these two pieces of information, we are able to compute and show the average number of employees for every business establishment in the House Cleaning Service in Cobb County.
What does the number of establishments tell us about the chances of success for Spotless Homes Inc.?
This analysis of the industry that we are writing about is able to take us down to the granular level and give us a picture of what our competition looks like in our target market and gives us a sense of just how large the market pie is and how many businesses are competing to get a piece of that pie. Clearly the more business establishments in a particular industry sector in any given target market, the harder it will be for a small business like Spotless Homes Inc. to compete and be profitable.
What is important here is to see the number of establishements in a target market over a 10 year time period as we conduct our analysis, and get a clearer
sense of any dramatic changes in the trend. When analyzing this number it may be a good idea to also look into the total population growth or decline and get an idea as to how many establishments there are per individual / household in the target market. If you see that the population of the target market is growing but the number of establishments in the House Cleaning Service is the same or declining, then it may present you with a good opportunity to fill a need for a product or service.
This logic of supply and demand applies to almost any business - even food establishments for example would benefit from an increase in the growth of the population but no increase in the competition represented by other food serving establishments. Of course such a change may also indicate a change in a local ordinance disallowing the further expansion of certain fast food chains. We have come across target markets where the business owner could no longer apply for a permit to serve alcohol since the local township had decided to stop issuing them, and thus the only way to get one was to buy it over the counter from someone who held one. Situations like this of course make it very difficult for a new business to start fresh and be successful since not having an alcohol permit can be the difference between success and failure for a food business.
Many townships have strict codes that put an end to any more franchise operations or big box retailers from doing business in the target market. This is of course an excellent opportunity for small business owners. A classic example of this is the mom and pop hardware stores. For years now, this segment of retail has been getting crowded out by big box retailers like Home Depot and Lowes known in retail as 'cateogy killers' since whatever industry category they choose to enter - they tend to dominate and smaller mom and pop stores in that industry category invariably go out of business. Thus if you happen to be in a large township that does not allow large retailers to come in you stand to have great tactical advantage and could actually set up a neat small business fulfilling a need locally that nobody else is able to. The fact that there are still small mom and pop hardware stores that provide excellent service in spite of the proliferation of larger competitors is a case in point.
What does the Total Employees analysis do for a business like Spotless Homes Inc.?
The total number of emlyoees in the business plan for Spotless Homes Inc. shows us how many employees were employed by establishments in the House Cleaning Service for the past 10 years or so. This is an excellent source of information that can be used by Anthony Cruz of Spotless Homes Inc. to get an understanding of what the total potential labor pool is like when they are looking to hire experienced workers away from their competitors. If the trend in the number of employees working in House Cleaning Service has been moving upwards, while the total population of the target market has remained constant, it may indicate that more folks have been getting into the industry giving you the ability to find experienced help relatively easily by offering a better package and incentives to the workers. On the other hand if the trend of total employees working in an industry has been declining than it means that there could be a paucity of good workers for your small business.
Many restaurants in the North East and West coast complain that they are not able to find good help since many teenagers don't want to work for the kind of wages that a restaurant can pay them. The hospitality industry in places like Cobb County has had to turn to hiring undocumented workers to be able to fill this gap.
How useful is the Average employees per establishment analysis for a business like Spotless Homes Inc.?
The average employees per establishment is derived by dividing the Total Number of Employees by the total number of establishments. This is a measure that was created by us and we think that is a very valuable metric since it gives business owners like Anthony Cruz a very good idea of the size of the competition. Thus we know that average number of employees for establishments in the House Cleaning Service has remained steady and a small business like Spotless Homes Inc. wants to expand its scale of operations, Anthony Cruz knows that they are going to have to hire more employees in order to be able to provide more products and services to clients.
An increase in the number of average employees per establishment over time could indicate that the demand for the services of that particular industry are growing and hence business owners in House Cleaning Service are having to hire more help to be able to cope with demand. The reverse is also true in the case of the average employees per establishment declining over time - it could well indicate that there is a slowing in the demand for the goods and services of that particular industry sector and hence employers are having to scale down.
Quick Links:
Go to the Corresponding Template section for this industry.
Go to the Corresponding Business Plan section for this industry.