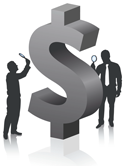 What is the Quick Ratio / Acid Test Ratio Template and why it is useful in a business plan for a House Cleaning Service?
The Quick Ratio Template gives a small business owner like Anthony Cruz of Spotless Homes Inc., the ability to calculate the Quick ratio / Acid Test Ratio of the small business and present that along with other key ratios in the financial plan section of the business plan. This is the section that is often most scrutinized by potential lenders and partners when they are looking to make an investment into a small business like Spotless Homes Inc.
The Quick Ratio template gives the small business owner the ability to show the current ratio of the small business both numerically as well as graphically giving the reader an excellent visual fix on what the Quick ratio will look like in the years ahead.
What calculations go into the Quick Ratio Template?
The Quick Ratio Template is very simple - all the small business owner has to do is to fill out the current assets and current liabilities and inventory for each of the 3 years that they are projecting in the business plan and the rest is automatically done by the template. The quick ratio is calculated and the graphic showcasing this ratio for each of the three years is automatically updated.
Once the small business owner is done inputting the data in the Input section of the template they can click on the output section of the template from where they can copy and paste the output directly into their business plan word document.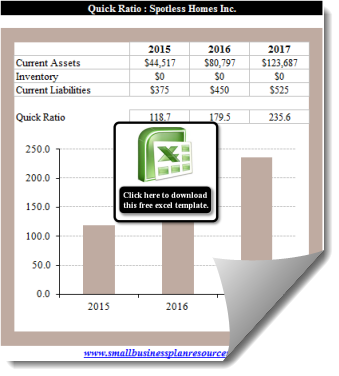 Quick Links:
Go to the Corresponding Questionnaire section for this industry.
Go to the Corresponding Business Plan section for this industry.