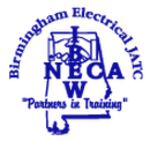 Alabama - Birmingham Electrical Joint Apprenticeship and Training Committee
5000 East Lake Boulevard
Birmingham, AL 32517
Phone: 205-849-5521
http://bejatc.org

The Birmingham Electrical Joint Apprenticeship and Training Committee (BEJATC) is a non-profit training organization dedicated to providing the electrical / telecommunications industry with the most highly trained workforce available. This is done through the time-tested method of apprenticeship. Apprenticeship provides the opportunity for someone with little or no knowledge or experience to gain a thorough understanding of their chosen career. The combination of instructor guided theoretical training in the classroom, hands-on lab work, and structured on-the-job training, provides a powerful framework within which the student not only learns, but also earns competitive wages and gains critical, practical job experience.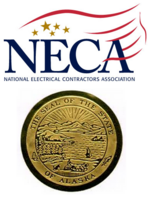 Alaska Chapter of the National Electrical Contractors Association
712 West 36th Street
Anchorage, AK 99503
Phone: 907-561-1958
http://www.alaskaneca.org

The Alaska Chapter, NECA serves the entire state of Alaska, from the rainforests of South East, to the frozen tundra of the North Slope. Their Statewide offices are located in Anchorage, with member contractors located and performing work across the last frontier. Their mission is to assist NECA member firms to become strong, professional and profitable businesses. NECA meets this commitment through numerous programs that help members take advantage of technological innovations, meet the challenges of an ever changing economy, secure fair representation in the legislative and regulatory processes, avail themselves of trained and highly skilled employees, and market and deliver the best possible services to their customers.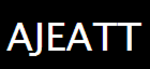 Alaska Joint Electrical Apprenticeship & Training Trust
5800 B. Street
Anchorage, AK 99518
Phone: 907-337-9508
http://www.ajeatt.org

The Alaska Joint Electrical Apprenticeship and Training Trust is a joint partnership between The Alaska Chapter of the National Electrical Contractors Association and The International Brotherhood of Electrical Workers Local 1547. The AJEATT is dedicated to producing Alaska's best trained and most qualified electrical workers.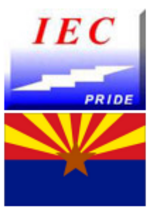 Arizona Chapter of Independent Electrical Contractors
5024 South Ash Avenue, Suite 109
Tempe, AZ 85282
Phone: 480-456-4444
http://www.iecaz.org

The association represents Independent Electrical Contractors, Journeyman Electricians, Apprentices & Suppliers & Distributors. They are the professionals who have become the symbol of quality for the electrical industry in the State of Arizona. Their members actively support the education of their employees and those in the industry who use their services. They are instrumental in interacting with local, state, and national officials on legislation to improve the industry, while at the same time, making the workplace environment safer. IECA of Arizona keeps its members apprised of the ever-changing electrical market both locally and nationally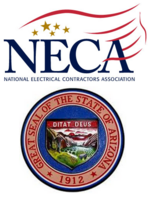 Arizona Chapter of the National Electrical Contractors Association
4315 North 12th Street, Suite 100
Phoenix, AZ 85014
Phone: 602-263-0111
http://www.azneca.org

The Arizona Chapter of NECA was chartered in 1947, and has represented electrical contractors in Northern Arizona and the Phoenix metropolitan area for over 60 years. Their members are experienced, proven electrical contractors that have a record of providing high quality, cost-effective services for their customers. lighting, to the most sophisticated design applications. Locally their members employ more than 1000 workers who perform over 2 million man hours of work per year. The members and their employees are local residents that support their communities and strive every day to make it a better place to live by donating their time and materials to various charitable projects.