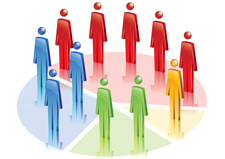 What is the purpose of this free template in a business plan for a Electrical Contractor?
This template has been put together to assist the business plan writer to put together a quick synopsis of the ownership structure of the Electrical Contractor. The template gives the business plan writer the ability to put together a quick graphic showing the total ownership structure. When lenders look to make small business loans, one of the items that they consider is who they are lending to. Thus if there are three owners and two of the three owners have excellent credit but one of the three has bad credit then it may affect the ability of the small business to successfully obtain an approval on the business loan. On the other hand if the third owner has a minority stake in the business, usually less than 20%, then the lenders may not require the credit scores of the third person for approval but may instead rely on the creditworthiness of the other two owners who together own most of the company. The third owner can then provide support to the business loan application with his or her balance sheet. This graphic and chart gives the lender a very quick view over who controls how much of the Electrical Contractor.
Thus one of the business owners of the Electrical Contractor can be a silent partner in the small business and still be able to lend a hand in the overall financial strength of the business loan package. This can also be particularly helpful if the silent partner is not a citizen or permanent resident of the United States and / or does not have a valid social security number or tax identification number (TIN).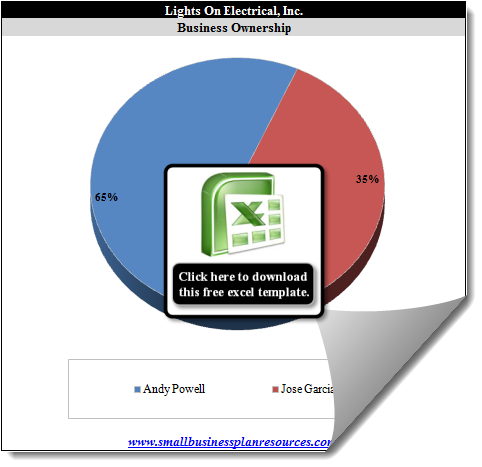 What calculations do you need to perform?
None. The free business plan template on business ownership has been designed to automatically update the pie chart on up to ten partners. You simply have to enter the name of the owners and the percentage of the ownership and the formulas will do the rest. In the event the total percentage ownership for the Electrical Contractor does not equal 100% the total check area will automatically light up in orange indicating that the total is not 100%. The chart has been set up to automatically prorate the remaining ownership amongst the partners that have been entered.
To use the company ownership template we recommend that you click on the image above and follow the instructions given in the template that is a microsoft excel file. You have the ability to select multiple business owners and the template will update automatically every time you add a new partner. Once you have completed inputting your information you can click on the output page from where you can copy and paste the output of the template into a word document.
Quick Links:
Go to the Corresponding Questionnaire section for this industry.
Go to the Corresponding Business Plan section for this industry.