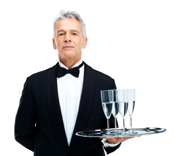 The Industry establishments by number of employees analysis covered in this section gives a very good idea of what the competitive landscape for Real Estate Funding Solutions looks like in Monroe county, New York. The pie chart in shows that in the year 2010, of the total 25 mortgage broker establishments of Monroe county, 16 establishments representing 64% of all establishments had between 1 to 4 employees. There were 7 mortgage broker establishments in the county that had between 5 and 9 employees and only 2 establishments that had between 10 and 19 employees. There are no embellishments for the last two categories of this analysis which cover establishments of more than 20 employees.
Thus this now paints a very clear picture that shows that almost two third of all mortgage broker establishments in Monroe county, will have the same number of employees as projected by Real Estate Funding Solutions. Thus the bulk of the competition is made up of smaller operations that often may not have the dept of talent and productivity that both Ryan and David bring to the table with their extensive experience in the mortgage business. While there are a total of 9 mortgage broker establishments that have more than 5 employees in the county, smaller operations like Real Estate Funding Solutions have some tactical advantages compared to the larger ones - the greatest advantage of course is the lower operational cost structure - larger firms that employ more people have higher expenses on all operational items beginning with compensation all the way to office supplies, rent and even higher costs of coffee and snacks. In order to cover these higher overheads, these operations have to constantly bring in more business and need a lot of volume to sustain their business. This is where a small business like Real Estate Funding Solutions has a great tactical advantage - it is projected that the bulk of the work for the first three years will be done by both Ryan and David and even when they do expand and hire a processors, they intend to keep the size of their operations small.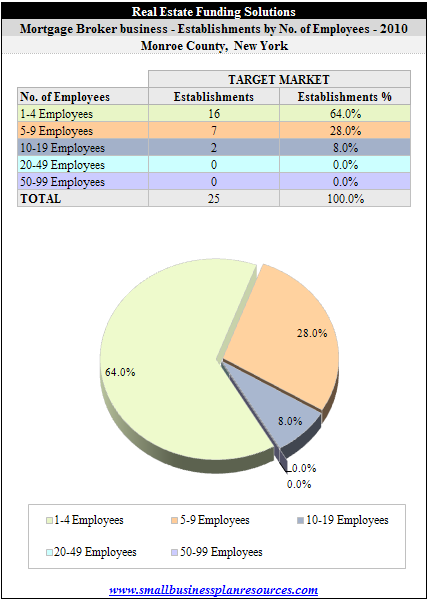 Quick Links:
Go to the Corresponding Template section for this industry.
Go to the Corresponding Questionnaire section for this industry.