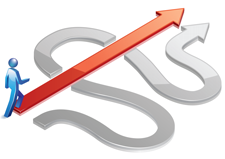 These are the key elements of success in the mortgage broker business today:
Excellent relationships with centers of influence like Certified Public Accountants ( CPA's), Attorneys, Bankers and Realtors.
A consistent and constant marketing strategy that is always churning out new leads to generate a steady flow of business.
Optimum use of technology to ensure that the business is being productive and is originating, processing and closing loans in the most efficient manner possible.
We believe that at Real Estate Funding Solutions we have these three elements down pat! The first and most important element for success in the mortgage broker business is to have deep relationships with centers of influence. Certified Public Accountants tend to be terrific sources of repeat business referrals - many mortgage brokers simply do not collect the name and contact information of the borrowers CPA when they are processing a financing. This is a terrible oversight - asking the borrower for an introduction to their CPA after successfully closing a financing for that borrower is the best way to step right into the CPA's office. Once a mortgage broker has closed a few loans referred by the CPA, they can become the go to person for all questions related to real estate and that is precisely what we anticipate will happen with out practice.
Likewise the attorney representing the borrower will be glad to refer business to a successful mortgage broker after they have worked well with the attorney's office on a transaction. We intend to try and attend as many of our closing as possible to ensure that we are able to make direct contact with the borrower's attorney to begin building a relationship. The same principle applies to Realtors - as everybody in the business knows, realtors are a great source of referrals since they tend to get in touch with a person buying a house at the very beginning as folks begin looking for homes - the downside to relying too much on realtors for referrals is that they tend to be pursued by many mortgage professionals and also they tend to provide referrals primarily for home buying financing solutions. Refinancing booms require a different source of referrals and that is why we will also be focusing on creating good relationships with bankers.
Small business bankers and loan officers at banks are often not able to get solutions for all the borrowers that come to them for financing. In these instances they often like to be able to refer their borrowers to a trusted external broker who they know will be able to get their client the solution and help them solidify their relationship. It is often very hard to earn the trust of business bankers and loan officers from commercial banks since they often may look at a mortgage broker as the competition, but we feel that this effort is well worth the rewards.
Besides having these excellent relationships, Real Estate Funding Solutions will also have an constant mailing of postcards within our target market to make the public aware of our services. Existing borrowers, prospects and centers of influence will get out monthly newsletter that will inform them about the latest trends in housing both nationally and locally. We feel that these marketing efforts will continue to yield us the excellent leads that they have been in the past for both Ryan and David when they used these marketing techniques in their own individual practices.
We will be making investments in both hardware and software to ensure that we have the best loan origination, processing and closing software in the industry to give us the extra competitive edge we need.
Quick Links:
Go to the Corresponding Questionnaire section for this industry.