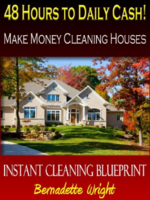 48 Hours to Daily Cash - Make Money Cleaning Houses - Bernadette Wright
http://www.amazon.com

Bernadette Wright has been in the cleaning industry over 30 years and shares with you what customers are looking for in this economy. People still need their homes cleaned, but you'd be surprised what they're looking for. With Bernadette's expertise, you'll be ready to give them exactly what they want and they'll be calling you instead of your competition.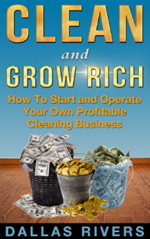 Clean and Grow Rich: How To Start and Operate Your Own Profitable Cleaning Business - Dallas Rivers
http://www.amazon.com

Everything you need to know about making money with this business is in this book. You will learn how to write a sizzling proposal; How to bid like a pro; Where to buy supplies; How to get people to call you for jobs; How to use this best-kept secret in business to launch your dreams

Cleaning Business Today
http://cleaningbusinesstoday.com

Cleaning Business Today is the first news and information source in the cleaning industry to combine the latest in tools and techniques with an equal balance of the best business practices. CBT is for anyone who owns or wants to start a cleaning business.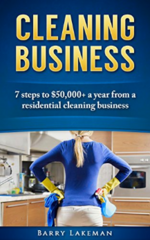 Cleaning Business: 7 Steps To earning $50,000+ A Year From a Residental Cleaning Business - Barry Lakeman
http://www.amazon.com

This guide will teach you how to get started on the business. The book will also look at the intricacies of owning and running a successful residential cleaning business. You will learn the pros and cons of this type of business, the items you need to set up the business and get started, how to market your business for maximum exposure once it is up and running, how to price cleaning jobs, how to build a brand that stands out from the competition, and many more.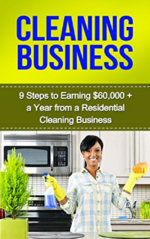 Cleaning Business: 9 Steps to Earning $60,000 + a Year from a Residential Cleaning Business - Heather Madison
http://www.amazon.com

You're about to discover how to start a cleaning business on a budget and begin to make money very fast! Starting a business of your own can be one of the most difficult things to do, but don't worry I am here to help and will guide you through the process!. Within this short book you will learn proven methods that have helped others just like you to start a cleaning business and begin to make money quickly and easily! It's really not rocket science. It just takes some education, hard work, and persistence!